Having wrinkles on the face are sure signs of aging!
As women reached their prime, they try to find the best solutions on how to reduce facial wrinkles.
But, do you think that all fine lines and wrinkles are the same?
Not really!
According to scientists, there are actually five different types of wrinkles.
Understanding each type will help you better in finding the right treatment.
Here are the FIVE DIFFERENT TYPES OF WRINKLES AND MY RECOMMENDED TREATMENT ON EACH TYPE:
1. ELASTOTIC WRINKLES can be treated with GLYCOLIC ACID.
Sun exposure damages the fibers that keep skin firm and creates textured lines – or elastotic wrinkles – on cheeks, neck and upper lip. It is just like rubber bands loosing their ability to spring back. In this kind of wrinkle, the best treatment is the glycolic acid which exfoliates sun-damaged cells to reveal smoother skin.
Recommended Product: Glycolix Elite
2. GRAVITATIONAL WRINKLES can be treated with HYALURONIC ACID.
As we age, collagen is loss which causes skin to fold into "smile lines" that run from the nose to the corners of the mouth, and also "marionette lines" that run the sides of the chin. Fortunately, hydrating hyaluronic acid counters these wrinkles fast. It acts like a sponge, pulling in hydration to add volume to your skin., which eventually plumps wrinkles.
Recommended Product: Neutrogena Rapid Wrinkle Repair

3. ATROPHIC WRINKLES can be treated with PEPTIDES.
Atropic wrinkles come from a breakdown of tissue structure as we age. They often appear between the eyebrows or on the neck. To help prevent this type of wrinkles, peptides will do the trick. These peptides spark collagen production, which helps rebuild damaged tissue structure and minimizes the look of atropic wrinkles.
Recommended Product: L`Oreal Age Perfect Hydra-Nutrition

4. COMPRESSION WRINKLES can be treated with SILK.
Sometimes when we wake up in the morning, you will notice some indentations on your face where your skin was pressed into your pillow. After sleeping like this nightly for years, permanent wrinkles can form. The good news is you can prevent those pesky lines by upgrading from a cotton case to silk or satin! Rather than gripping onto skin like cotton does, a silky fabric lets skin glide over it as you change positions, which then will minimize wrinkles!
Recommended Product: Spasilk 100% Pure Silk Pillowcase
5. EXPRESSION WRINKLES can be treated with RETINOL.
These types of wrinkles can form anywhere on your face as it changes when facial expressions are made. Repetitive motions like squinting and smiling can create deep fine lines, especially around the eyes and lips. The treatment recommended for this type of wrinkle is by using products with retinol. This is a Vitamin A- based anti-aging product which thickens skin from the inside out to fill in deep-set lines.
Recommended Product: Kleem Anti Aging Retinol Moisturizing Cream

Added Natural Tip:
Here is an added tip to reduce facial wrinkles. (READ on Facial Exercises)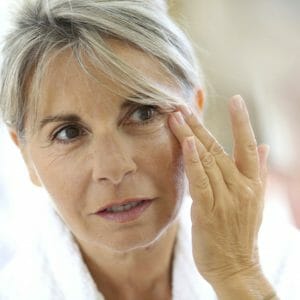 A daily facial massage can boost blood flow, revitalize collagen productions and minimize wrinkles of every type. Simply set your alarm for one minute, then place your ring and middle finger from each hand at the center of your chin. Quickly, but gently, tap out ward along the jawline until you reach your ears, then reverse until your fingers meet again on the chin. Move fingers up slightly and repeat until you have covered your entire face, avoiding eyelids but including lips, cheeks, nose and forehead.
My final thoughts,
In reducing fine lines and wrinkles, it is good to understand what kind of facial wrinkles you have. I have enumerated these several types and given you some product recommendations you may use. But for added precautions, these are products that i personally recommend, facial skin types also varies as this may cause you different results.
If you have any questions or any thoughts in regard to this article, you may leave a comment.